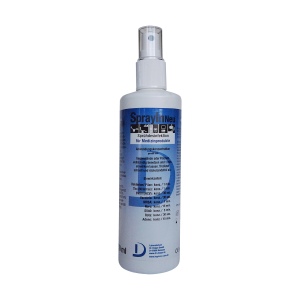 SprayIn Neu is an aldehyde-free, ready-to-use spray disinfectant for medicine products, OP tables and other medical furnishings and appliances. SprayIn Neu needs just a minimum of only 60 seconds application time to be effective against a broad range of germs. Drying residue-free it is very material-compatible (don't use for acryl glass).
Category and security indications
SprayIn Neu is tested against MRSA*, is baktericidal, fungicidal, levurocidal, tuberkulocidal (incl. M.-Terrae). SprayIn Neu is effective against coated viruses: Rota, Adeno, SV40 as well as against Noro viruses. It is partially viucidal according RKI ** reccomandation against a broad range of coated viruses – BVDV (HCV)/Vaccinia, HBV/HIV – as well as against Ebola.
SprayIn Neu is VAH *** and IHO **** listed.
Caution with surfaces, sensitive to alcohol (acryl glass)!
Product qualities and ranges of application
Thanks to its wide range of efficiency, it's usability, pleasent smell and material qualities, SprayIn Neu is ideal for the surface disinfection in operating theatres, in medical areas and those close to patients. SprayIn Neu is endorsed for infection-critical areas, such as intensively frequented areas where people gather, shop, work together – institutions, public transportation, counter areas etc.
On account of its specific performance profile SprayIn Neu is suitable to diminuish contamination risks and to contribute to the return to a relativly normal daily living in the current Ebola to threatened West African regions.
Forms of delivery
250ml pump-action spray
12 x 1-l spray strap
2 x 5-l jerrican
10-l jerrican
Prices and conditions
For export prices, minimum amounts, contractual questions or to get in direct contact to the Dr. Deppe export management, please contact us by email:
* MRSA: Methicillin (antibiotic from the group of β Laktam antibiotics) resistant Staphyloccocus aureus strains
** Robert Koch Institute
*** Federation for applied hygiene
**** Federation of industries hygiene and surface protection for industrial and institutional application