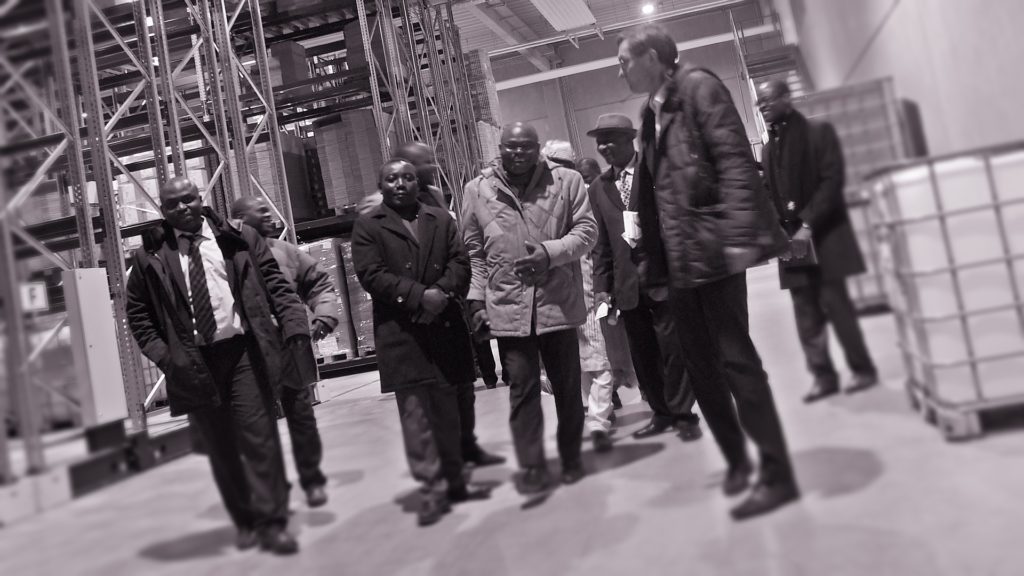 Red carpet for a group of high-ranking government and science representatives from Benin: Tilmann Junger, Dr. Deppe Exportmanager, welcomes the West African visitors to Dr. Deppe's company premises in Kempen. In a total of three factories, chemical products are produced here as aerosols, liquid and powdery consistencies.
Two pillars



Dr. Deppe drives his business along a twin-track strategy. As Dr. Deppe InstruZym, AlphaGuard, etc., the company produces and sells professional hygiene solutions for the healthcare market. As a subcontractor, the Kempeners work almost incognito for well-known brand names and for the private labels of various trading companies – in Germany a million-heavy business
The German formula on the trail
On it's knowledge tour from 14 to 23 February 2017 the delegation, headed by Minister of State Kokou, informes about the topics of vocational training and economic development by the federal states of Saarland, North Rhine-Westphalia and Berlin. In this scenario a visit to a real medium-sized company must not be missing – after all, the medium-sized economy is in a congenial alliance with the craftsman's sector a guarantor of the German model of success. Without involvement of the economy no dual system could be existing!
Company tour & internship agreement
Dr. Deppe, a family-owned family business, has accepted the visitor's from Benin, giving them insight into production, filling and logistics. Managing Director Marc Deppe makes Minister Kokou, responsible for professional and secondary education, the offer to include study graduates of chemistry as an internship in the company – a Kempener Marshall plan for education and economic cooperation.

View with perspective
Both sides benefit from the visit to the company: By looking at retorts and conveyor belts the delegation can get a clear picture of how work is successfully done in Germany . For Dr. Deppe, with professional hygiene solutions in approximately 30 countries an international export champion, the window to Africa opens a bit further: With it's presence on afrisanté, Dr. Deppe has already taken decisive first steps in this direction. The delegation's visit makes getting a step further.

Convivial evening in a moody atmosphere
The renowned Erkelenz in the center of Kempen is the next stop on this day. By Dr. Deppe Laboratorium's invitation, the guests taste regional treats from the kitchen and learn about the so calle "Alt" beer. Conclusion: Lifestyle, work and enjoyment culture are not the sole privilege of Düsseldorf and Cologne!