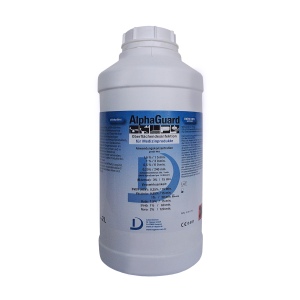 AlphaGuard is an universal disinfectant, meant for cleaning and disinfecting all kind of surfaces of medicine products, particularly surfaces and subjects in the environment close to patients and in medical enviroments. Thanks to it's very low application concentration AlphaGuard is  extremely economical.
Category and security indications
AlphaGuard is a medicine product belonging to class IIA – it is fast and extensively baktericidal, fungicidal, tuberkulocidal and virus-inactivating (incl. HBV/HIV). AlphaGuard is effective against coated viruses, against BVDV (HCV) Vaccinia viruses (in accordance with current recommendation) and against SV 40 viruses as well as Noro viruses. AlphaGuard is tested for its effectiveness against MRSA*.
Product qualities and ranges of application
AlphaGuard is a fluid concentrate. It's a dual use product. It combines good cleaning performance and economic advantages with good material and skin compatibility.
AlphaGuard ranges of application are laboratories, clinical and nursing facilities, sanitary  and bath areas as well as central and decentralized proportioning plants. AlphaGuard is used in connection with mixing systems, automatic washers and cleaning tubs for immersion disinfection.
Ebola recommendation
AlphaGuard combines economic viability and uncompromising virucidal impact against a multiplicity of dangerous exciter types, among others the dangerous CORONA and EBOLA viruses.
It's specific profile makes DeltaGuard in the battle against CORONA a first choice recommendation
Forms of delivery
2-l bottle
5-l jerrican
10-l jerrican
Prices and conditions
For export prices, minimum amounts, contractual questions or to get in direct contact to the Dr. Deppe export management, please contact us by email:
* MRSA: Methicillin (antibiotic from the group of β Laktam antibiotics) resistant Staphyloccocus aureus strains