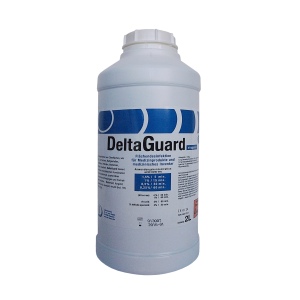 DeltaGuard is a widely useable, effective and particularly economic disinfectant. it's destined to disinfect surfaces of medicine products, seats, tables, counters and other objects in hospitals, care facitlities, nursing homes and public spaces. DeltaGuard is also suitable for immersion bathes and for instant troubleshooting in case of strong pollution and smell load.
Category and security indications
DeltaGuard is a fluid concentrate based on Glutaraldehyd and quaternary ammonium compounds. DeltaGuard is bactericidal, tuberculocidal, levurocidal (incl. C. albicans), sporicidal n. EN 13704:2004 (Clostridium difficile) as well as virucidal (in accordance with recommendation RKI) (Vaccina, SV40, polio, Adeno).  The Ebola virus currently causing severe problems in Western Africa  is coenclosed.
Product qualities and ranges of application
Thanks to excellent cleaning qualities and material compatibility DeltaGuard is recommended for all surfaces of medical devices and subjects of the environment close to patient. In addition  DeltaGuard ist suitable for immermsion disinfection as well as for central and decentralized proportioning plants and mixing systems. Preferred ranges of application are clinics, practices, nursing homes.
From a epidemiological sight DeltaGuard represents a prior hygiene measurement to protect the public sphere from potentially infectious diseases  – in means of fighting against germ contamination where people gather, work, shop, travel together – particularly as DeltaGuard is less expensive and very practical to handle.
Ebola recommendation
DeltaGuard combines economic viability and uncompromising virucidal impact against a multiplicity of dangerous exciter types, among others the dangerous EBOLA virus.
It's specific profile makes DeltaGuard in the battle against Ebola a first choice recommendation.
Forms of delivery
6 x 2-l bottle
2 x 5-l jerrican
1 x 10-l jerrican
Prices and conditions
For export prices, minimum amounts, contractual questions or to get in direct contact to the Dr. Deppe export management, please contact us by email: