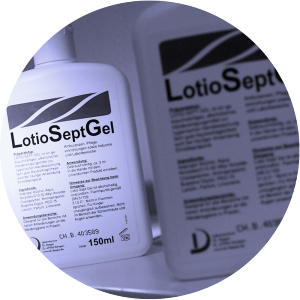 Disinfectants help to avoid wound infections and contagious deseases. They start where the sore infection or the infectious disease right begins: With the pathogenic micro-organism. Thanks to their chemical qualities disinfectants are able to kill such pathogens.
Hepatitis. Polio. Ebola: Disinfectants and other hygiene precautionary measures represent the first ratio against the propagation of dangerous infection diseases.
Disinfectants fight against pathogen germs on skin and hands, surfaces and instruments of the medical and dental practice.
The here presented choice of disinfectants focus the impact and the efficiency against dangerous pathogens. Fast and reliable.
Get to know more about effective disinfection and instrument cleaning according to different application areas:
Hands and skin: disinfection and infection prophylaxis close to the patient
Surfaces of medical devices, OP tables, infection-critical public areas
Instruments of the endoscopy, of anaesthesia and artificial respiration, in the orthopaedics
All Dr. Deppes products are carefully examinded on theirs bakterizide and viruzide effectiveness as well as on skin compatibility and a low allergy potential. The examinations and tests are executed in the internal lab and by independent, internationally famous test institutes.