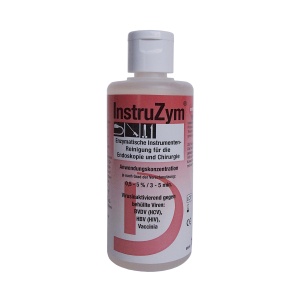 InstruZym is an enzymatic cleaner for medical instruments. It's dedicated to all kind of material-careful, residue-free cleaning-procedures, specially those from flexible and rigid endoscopes, endoscope accessories as well as surgic and orthopedic instruments.
InstruZym prevents biofilms which can accommodate multi-resistant bacteria. InstruZym prevents coagulations which tend to provoce device failures. The functional activity of mobile instrument parts is protected.
Category and security indications
Within 2-3 minutes exposure time InstruZym creates the presupposition for a safe disinfection and sterilisation. It's qualities are as well  bactericide as virus-inactivating. It's proteases and amylases containing, surfactants supported formula split, suspend and remove proteins, polysaccharides, deposits of blood, secretions, fabrics and grease. Antibacterial and virus-inactivating components protect against contamination from the used solution.
Caution: InstruZym is not determinated to replace disinfectants.
Product qualities and ranges of application
InstruZym facilitates the residue-free cleaning particularly of elsewise difficult to purge instruments with narrow diameters, endoscopes and endoscopic accessories.
InstruZym is suited for all ranges of application: Immersion bath, circulation bath and ultrasonic bath.
Because of its material-careful qualities InstruZym is also indicated for sensitive materials.The cleaning power of the ph-adjusted formula is already effective with cold water temperatures. It's impact can be increased by the use with warm water (30-45°C).Thanks to it's low application concentration InstruZym is particularly economically.
Forms of delivery
6 x 2-l bottle / cardboard
2 x 5 ls of jerrican
bigger bundles on inquiry
Prices and conditions
For export prices, minimum amounts, contractual questions or to get in direct contact to the Dr. Deppe export management, please contact us by email: