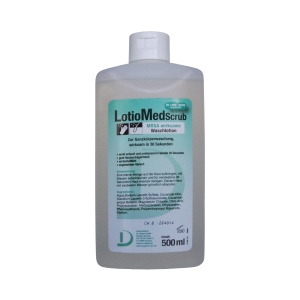 LotioMed Scrub is one for MRSA* / ORSA ** patients indicated whole body washing lotion. It's formulation and consistency  fulfill the rigourous demands of MRSA* / ORSA ** contamination at highest level.
LotioMed Scrub is destined for the careful-hygienic cleaning and for the antiseptic treatment of skin, hands and hair.
Category and security indications
Quality and the formulation's effect are essentially based on the ingredient Polyhexamethylen Biguanid. Because of it's special skin compatibility also used in cosmetic industries alternatives of equal standing to this substance can hardly be found.
LotioMed Scrub whole body washing was tested against s.aureus, p.aeruginosa and against a patient derrivative MRSA* bacterial strain. It was also examined according EN 1499. Lotio MED SCRUB is extremely well effective within 30 sec., even with protein load.
LotioMed Scrub whole body washing is alcohol-free, mucous membrane-compatible and according EN 1499 dermatologically examined and confirmed.
Product qualities and ranges of application
LotioMed Scrub connects extensive effectiveness, good skin compatibility and hair cleaning-qualities, smells pleasantly and is suitable for all medical and nursing areas with raised hygiene demands – clinics, practices, outpatient clinics and nursing homes.
Forms of delivery
500ml rectangle bottle
1000ml rectangle bottle
Prices and conditions
For export prices, minimum amounts, contractual questions or to get in direct contact to the Dr. Deppe export management, please contact us by email:
* MRSA: Methicillin (antibiotic from the group of  β Laktam antibiotics) resistant Staphyloccocus aureus strains
** ORSA: Oxacillin (antibiotic from the group of Peniciline) resistant Staphyloccocus aureus strains