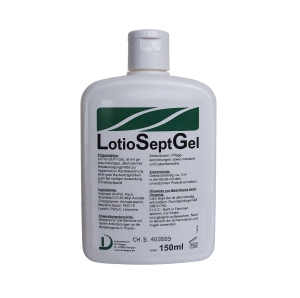 LotioSept Gel is a ready to use alcoholic lotion, destined for hygienic hands cleaning and hands decontamination. No color contain. Good skin compatibility also under the condition of frequent application. No water addition.
Category and security indications
LotioSept Gel is checked and effectively found by the directives German Institute for Standardization EN 1500 to the hygienic hands disinfection. – Tested on BVDV/Vaccinia – effective against all coated viruses.
Product qualities and ranges of application
LotioSept Gel works extensively baktericidal, fungicidal, partially virucidal incl. HBV/HIV. Also effectively against MRSA. Suitably for clinics, practices, outpatient clinics, nursing homes, industries and laboratories as well as all other areas with high demands for the hands hygiene. – an ideal preparation for mobile activities!
Forms of delivery
30 x 150ml pocket bottle

18 x 500ml bottle

10 x 1000ml bottle

2 x 5-l jerrican
Prices and conditions
For export prices, minimum amounts, contractual questions or to get in direct contact to the Dr. Deppe export management, please contact us by email: