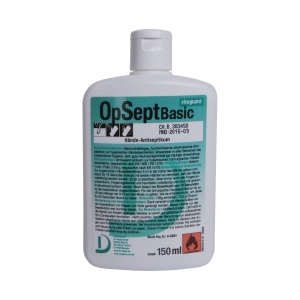 OpSept Basic is a ready-to-use alcoholic hands disinfection. The combination of biocidal effectiveness and very good skin compatibility even under conditions of very frequent makes it special.
OpSept Basic is applicable in all areas of the human hygiene.
Category and security indications
Biozid of the product kind 1 (" Biocids for the human hygiene ") – Biocid for careful use only. Before use always read marking and product information. Biovid Register Nr.: N-43561
Product qualities and ranges of application
Hygienic hands disinfection. OpSept Basic is suitable for all areas to the human hygiene with high demands for the hands hygiene in clinics, practices, outpatient clinics, nursing equipments as well as industry and lab areas.
Forms of delivery
24 x 150ml pocket bottle
18 x 500ml bottle
10 x 1000ml bottle
2 x 5-l jerrican
Prices and conditions
For export prices, minimum amounts, contractual questions or to get in direct contact to the Dr. Deppe export management, please contact us by email: